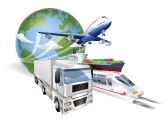 Octopus Express Logistics
What is Logistics. Logistics is the management of you goods goods from the point of origin through to the end user. Logistics the amalgamation of information, transportation, stock control, warehousing, handling and packaging.
Logistics is divided into five main categories which are :-
Procurement
Good professional procurement is the process of purchasing goods at the most economical total cost, whilst achieving the specific requirements for your company. The Procurement process should be optimized for your benefit and where ever possible secured with a contract.

Procurement is normally the acquisition of goods for resale or internal use purposes for a company or individual. Quality checks should be part of the Procurement process, and suppliers are normally screened by the purchasing company. The purchasing process is normally the start of good business relationship between the buyer and the seller.
Production
The production process connects procurement and distribution logistics. Production logistics is designed to use the production capacities currently available in order to produce the products required for distribution. Activities are related to the organizational of concepts and layout planning through to production and quality control.
Distribution
Distribution as it describes is the picking and packing of the stock from your warehouse and distribution of the items to your customer. Distribution can be achieved in the many ways from parcel or pallet delivery with an overnight carrier, dedicated delivery on a variety of vehicles and exporting of goods.
At Octopus Express we strive to offer all of the above services with a personal friendly approach and a jargon free logistical solution.
After sales
After sales is the ongoing relationship between you and your customer and can be divided down into two main areas. These areas are periodic and routine maintenance. Periodic maintenance can be used to up sell more items, important changes or upgrades to your customer where as routine could be better described as problem solving.
Disposal
Disposal Logistics sometimes known as 'Reverse Logistics' is basically the moving of goods from the final destination for the purpose of recapturing intrinsic value, or for the proper disposal. Sometimes it also includes the refurbishment activities of your company
At Octopus Express Logistics we have a depth of knowledge enabling us to support your requirements in any or all of the above sectors. Why not call us for more information on 01708 202375